MBSR
Mindfulness-Based Stress Reduction (MBSR) is a comprehensive introduction to the art of mindfulness.
Modeled on the work of Dr. Jon Kabat-Zinn at the UMass Medical Center, MBSR gives you more than just relaxation techniques. It's a structured program to learn a different way of being.
Mindfulness helps to calm and steady our minds. That in turn allows us to see ourselves and our ways of thinking more clearly. So, for example, it means we see where we fall into distraction or auto-pilot, and instead choose to try a more focused approach. Or we begin to question our negative, limited thoughts — like the ones that say, "I'm not good enough" — and move forward one step at a time. Or we stop struggling against what life dishes up, and find a way to hold steady though it.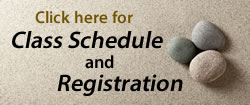 The MBSR program shows you ways to
There is a growing body of research showing that mindfulness brings us many benefits. It's good for our physical and mental health, and our overall well-being, too.
Course details
8 weekly in-person classes (2-1/4 hours each) and 1 all-day session on a weekend day
instruction in mindfulness meditation, yoga, and body awareness
group discussions to support making mindfulness a part of daily living
homework exercises to build awareness throughout your day
The program is intensive and challenging. Homework assignments include meditating at home for 30-45 minutes every day, plus doing simple awareness exercises for at least an additional 5-10 minutes per day.
MBSR may not be for you if…
Meditation is considered safe for healthy people. However, this program may not be the best course of action if you are dealing with any of the following:


being so stressed or busy that it feels difficult to commit to the daily homework
physical or medical conditions that limit your ability to do the meditation or yoga practices
active substance dependence, or in recovery less than one year
psychological issues such as PTSD, clinical depression, or other major psychiatric diagnoses
Some exceptions are possible, so please contact me if you have any questions.
Additional resources