---
March 2010 Newsletter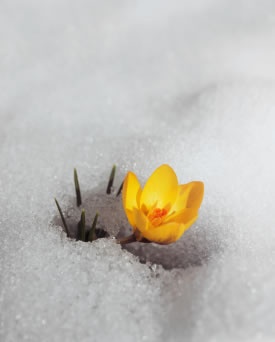 Dear Friend,

Welcome to my (more or less) monthly newsletter -- which I send to my Wildmind meditation students, coaching clients, colleagues, and all who subscribe to my mailing list. If you don't wish to receive this, you can unsubscribe at any time by clicking the link at the bottom of this email.

With all my best wishes,
Sunada Takagi
Mindful Purpose Life Coaching

sunada@mindfulpurpose.com
www.mindfulpurpose.com
Follow me on social networks:
---
Life Coaching with Sunada

The more I observe how our world is advancing -- with technology, scientific discoveries, and so forth -- the more the Buddha's teachings hit home to me. One of his fundamental insights was how deeply interconnected we are in a vast web of life. We cannot tinker with one part without affecting all the others. Our economic downturn, the environmental crisis -- the examples are numerous.

But there's a flip side to this story. We each as individuals not only have a stake in our future, but are a part of shaping it. Whether we like it or not, our actions have an effect on where our world is heading. What kind of world do you want to see? Do you envision a kinder, more compassionate, and sustainable world?

I know many of us are reflecting on and rethinking our lives. Perhaps you're feeling drawn to engage with your world in a more meaningful way. To make a difference somehow -- perhaps as part of your work, community, or extended family. I'd love to explore with you how you might contribute toward our greater good.

To learn more about my coaching, or to schedule a complimentary session, visit my website at www.mindfulpurpose.com.

---
From Sunada's Blog

Learning to love ourselves

It happens so often among spiritually-minded people. We give our all to love and care for others, and yet when it comes to ourselves, we're full of criticism and judgment. Sunada shares her experience of working with the practice of loving kindness, specifically learning to love herself. More...




One person doing one good thing

Last weekend I heard an inspiring story on National Public Radio. It featured Mark Horvath, a man who has used his unique position as a former Hollywood insider, drug addict, and homeless person, to focus attention on the plight of the homeless. Here's an example of one man who has taken his own life experiences -- the good and the bad -- and turned it around into something for the good of others. He's just one person, doing one good thing. And what an effect he's having. More...




Making a Difference

With the rise of social networking, I'm noticing more and more resources that allow ordinary people like you and me to get involved in making a difference. One website I found recently is called TakePart.com. It's an online community that connects people directly to the issues that inspire them to engage, contribute and take action. There's a long list of issues they cover, including the environment, animal welfare, poverty, energy, civil rights... just to name a few. I was particularly inspired by their blog article, "5 Under 25: Young Women Changing the World." I encourage you to visit their site and learn how we might take part ourselves. Visit the TakePart.com website



---
Miscellany

Video: Starry Night in Hawai'i

Here's a gorgeous one-minute time-lapse video of a starry night seen from the White Mountain in Mauna Kea, Hawai'i. It took me back to that sense of wonder I felt as a child growing up in rural New Hampshire -- where I could see that dome of the vast night sky above me, filled with countless stars. More...




---
Upcoming Events

Living with Mindfulness: Weekend Retreat
Where: Aryaloka Buddhist Center, Newmarket NH, USA
Date: Fri May 14 - Sun May 16, 2010
Led by: Sunada and Viriyalila

What does it means to live mindfully? How do we bring more calm and inner clarity into our daily lives? How can we stay confident and purposeful when times get rough? This retreat is a down-to-earth, practical exploration of the Buddha's teaching on the Four Foundations of Mindfulness. Through meditation, discussion, and hands-on exercises, we'll investigate how to live with greater awareness of our Body, Feelings, Emotions and Thoughts -- and in turn, how to live with contentment and in harmony with the world around us.

This retreat is open to all. No prior meditation experience necessary. There will be detailed instruction for those who are new to meditation, and periods of silent practice for those with experience. More...

Wildmind's online meditation courses start Mar 29
Too busy to get to a local class? Tried on your own, and now looking for some guidance and motivation? Take a Wildmind course from home or on the road! It's all online 24/7 -- with high quality materials and a chance to work directly with Sunada, an experienced meditation teacher. The discussion forum gives you a place to talk about your practice freely with your teacher and classmates in a shared space. Next classes begin March 29 (and throughout the year except for a few weeks in June-July). More...
---
Want to subscribe?
Click here to subscribe to this newsletter