How it works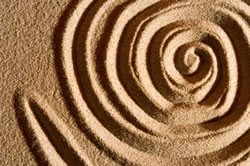 My coaching is usually done by phone, or Skype where possible. It doesn't matter where you're located — as long as you're willing to call Boston MA, USA. I've worked with clients all over the world, in the USA, Europe, Australia, and Asia. Typically, we would talk one-on-one for an hour weekly over the course of several weeks.
First we figure out where you want to go. We start by getting a holistic picture of your current situation. We also go in depth into what makes you tick — what inspires you, what you really care about, what's really important to you. This helps us start forming a roadmap — from your present to your future.
Then we look at what's holding you back. And really, the only true obstacle is ourselves. It's our fear of the unknown. Or old habits that keep us stuck. Or self-doubt. The thing is, fear, habits, and doubt are universal human experiences. We all have them. But we don't need to let them rule our lives.
So we find your inspiration, clear the obstacles, and move methodically forward. In a nutshell, that's how we get you to accomplish great things.
It's not therapy
Generally speaking, therapy deals with psychological issues from the past. It's about healing, restoration, and regaining balance. My coaching looks toward the future. I work with you to prepare the ground here and now to create the life you aspire to. Both approaches have their place and purpose. I've had clients who worked with me and a therapist at the same time and gotten great results.
Complimentary session
If you'd like to find out more, please contact me for a complimentary session. Remember — I work by phone and Skype, so we can talk no matter where you're located.