My story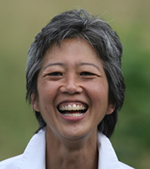 Back in the mid-90s, the kind of life I'm living now wasn't even remotely in my thoughts.
There I was — a businesswoman working in high tech, managing software planning projects, flying around the world meeting with executives and customers. At the same time, I was pursuing a lifelong love of music — studying classical piano and playing Chopin and Beethoven on nights and weekends. I was successful, making good money, and had a happy marriage. I had it all. Or so I thought.
Then came my injury. It all happened very quickly. Because I was working on computers by day and playing the piano by night, my wrists never got to rest. My too-fast-paced, stressful lifestyle also contributed to the situation. I came down with a repetitive strain injury — tendonitis up to my elbows, so severe that at times I couldn't even hold a book to read. It was too painful. Playing the piano was out of the question. It was my wake up call.
All told, it took nine years for my wrists to recover. But I think this "disaster" was one of the best things that ever happened to me. When everything got taken away from me, I was forced to reevaluate. What do I really want to do with my life? What's most important to me?
Here I am now, an ordained Buddhist and mindfulness coach committed to helping others reconnect with who they really are. I sold my piano and took up singing instead. I love what I do. It's all so much better suited to me than anything I was doing before. I wouldn't trade it for anything in the world.
I'm a firm believer that everyone can have a life that's personally fulfilling and brings out their best. I consider it my life's work to help others find exactly that for themselves.