Transform your life with mindfulness
What might happen if you lived with more mindfulness? In other words, if you paid more attention to your present moments?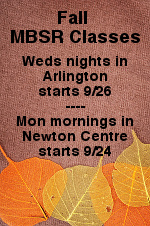 What if you could hold steady through your worries, anxiety, or overwhelm, and not get swept away? What if you started seeing through your old habits, and consciously choosing to do things differently? And what if you began taking action on what's really important to you?
We each have a wealth of inner resources: resilience, creativity, wisdom, integrity, and compassion, to name a few. Mindfulness reconnects us to these, so they become stronger forces behind our actions. Unlocking this human potential within us — this is the larger vision of my work.
What might happen if you brought out YOUR potential more purposefully?
Sunada Takagi
Certified MBSR Instructor
Professional Certified Coach
Inspiring Change from the Inside Out

---
Services: